Take a minute to see our video
INGREDIENTS:
Our Retinol Solution is clinically formulated with these key ingredients
2.5%
Retinol
. Prevents wrinkles.
. Increases production of collagen.
. Regulates oily skin.
. Minimizes breakouts.
5%
Fruit Acid complex
. Reduces wrinkles appearance.
. Moisturizes.
. Improves tone and texture.
1%
Matrixyl
. Stimulates collagen growth.
. Tightens Skin.
. Repairs damage.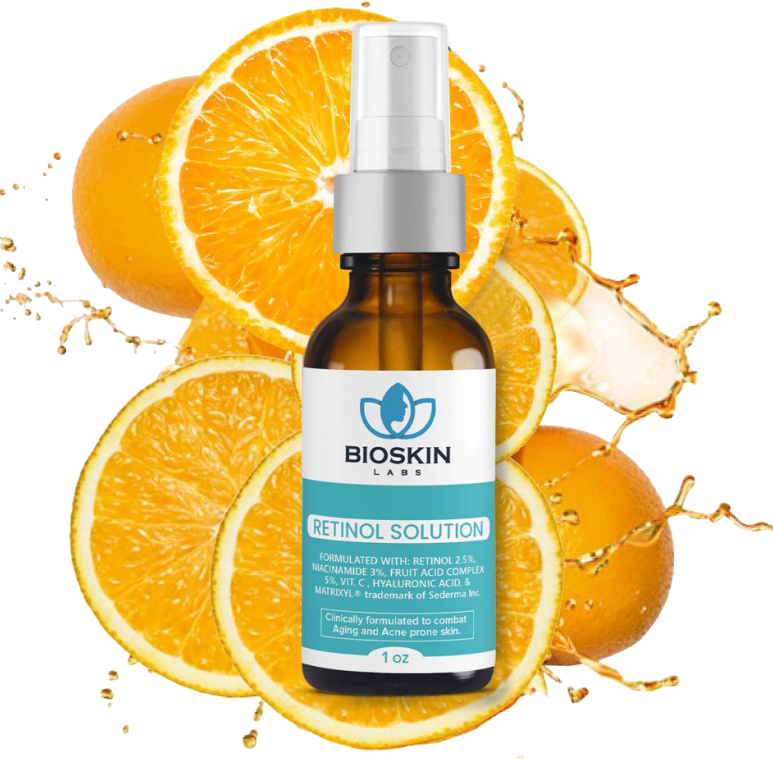 Camellia sinensis (Green tea) leaf extract
Combats acne by killing bacteria, and helps prevent skin cancer.
3%
Niacinamide
. Protects against sun damage.
. Treats hyperpigmentation.
. Treats acne.
1%
Vitamin C
. Prevents sun damage.
. Reduces acne & hyperpigmentation.
. Produces collagen.
1%
Hyaluronic Acid
. Maintains moisture.
. Stimulates cell regeneration.
Our Story
Founded in 2020, BioSkin Labs aims to solve common skin problems and let you meet the best version of yourself by providing the youthful, glowing skin you've always desired.
Read More
Retinol Solution +
Regular price
Sale price
$29.99 USD
Unit price
per
Sale
Sold out
Developed by People like you in search for beauty and skin experts, our Retinol solution is an all-in-one solution for your face.A clinically tested solution that contains 7 incredible ingredients...
View full details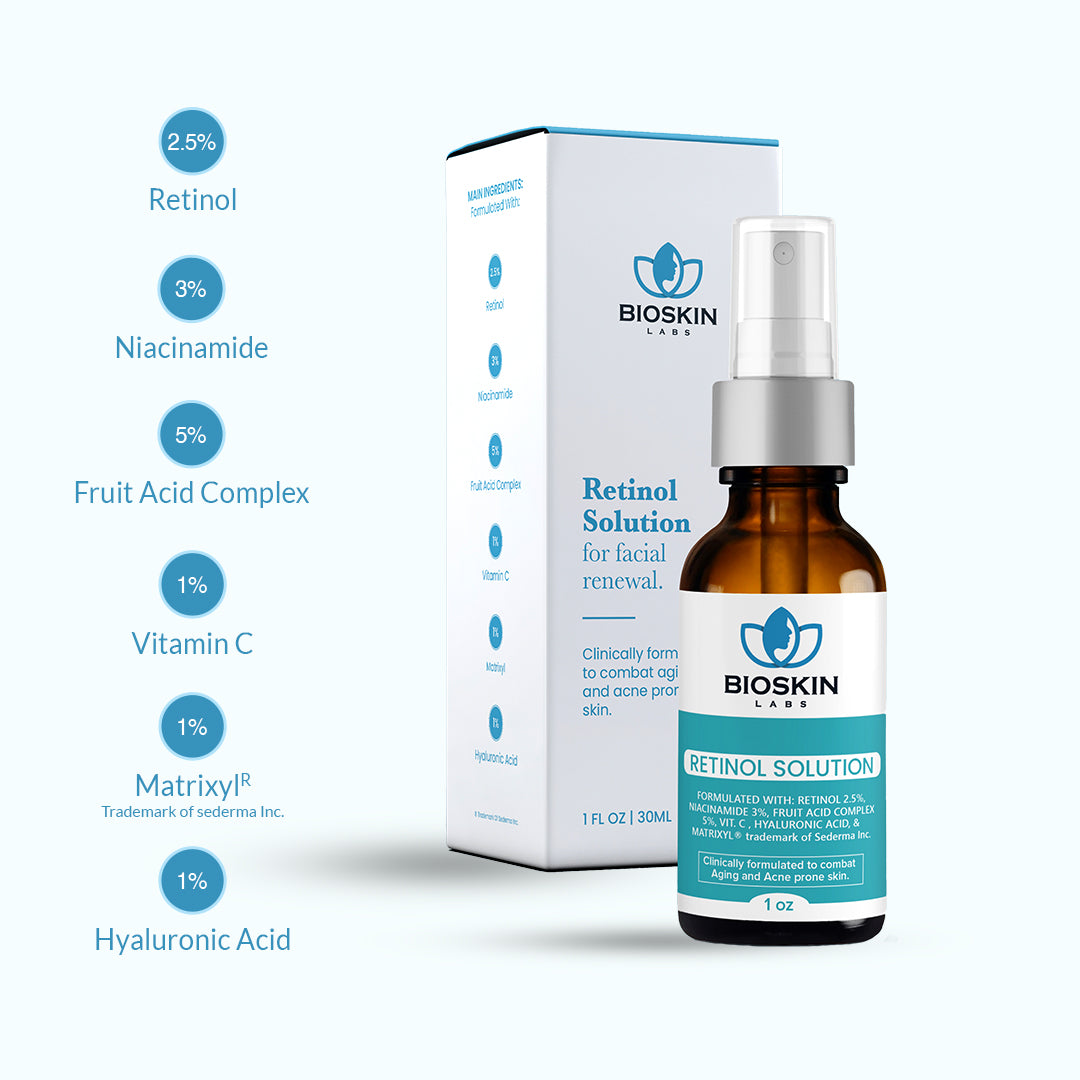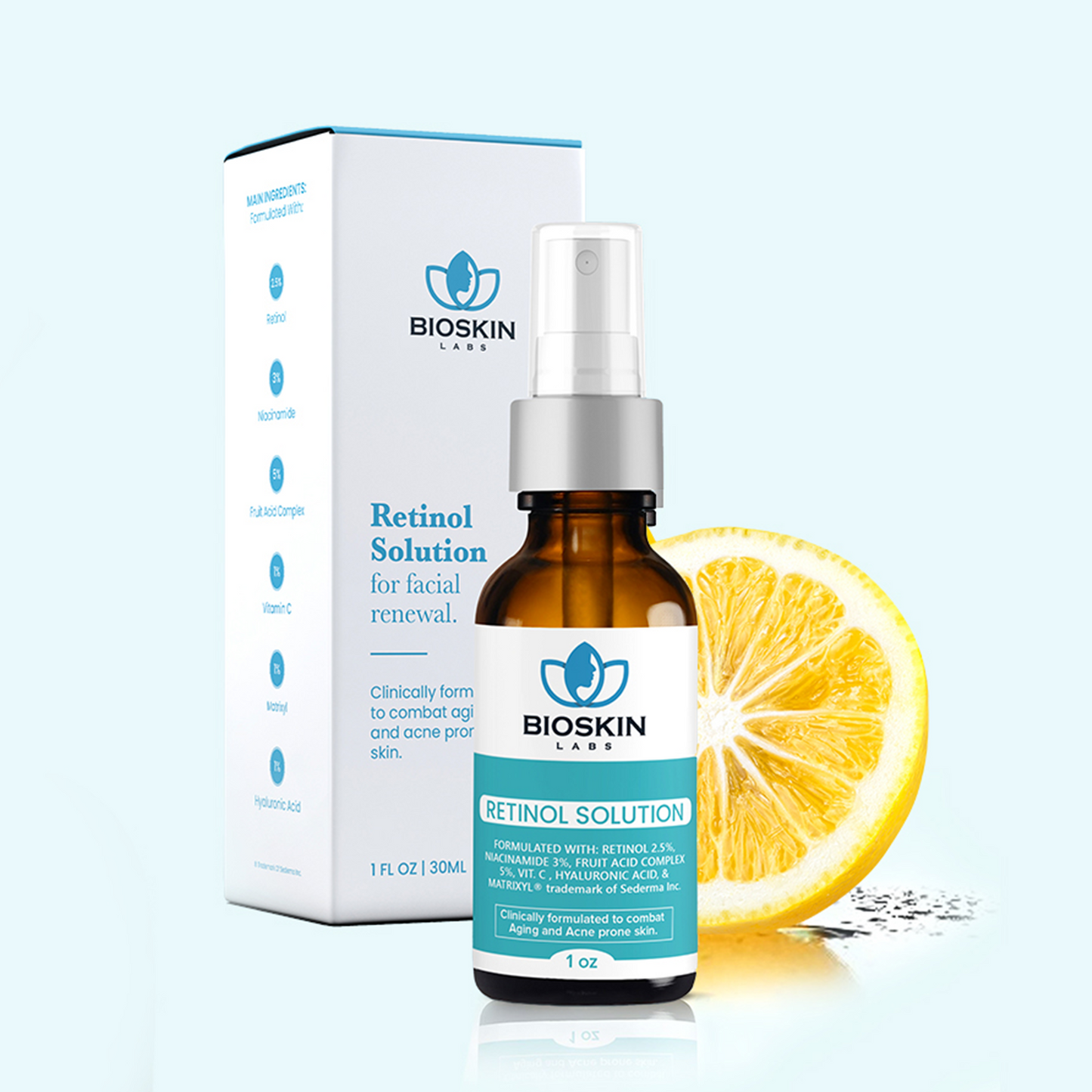 Natural

Recyclable

Compostable

100% original
Let customers speak for us
Skincare talks blog
We all wish to have spotless skin that glows all the time.    However, mainly, acne shatters our wish in no time, especially when we have an essential event approaching....

We all wish to have spotless skin that glows all the time.    However, mainly, acne shatters our wish in no time, especially when we have an essential event approaching....

Read more

Collagen production naturally declines with age. Furthermore, collagen fragments and becomes more loosely distributed. These changes result in typical aging signs of wrinkles and dry, sagging skin. The integrity of...

Collagen production naturally declines with age. Furthermore, collagen fragments and becomes more loosely distributed. These changes result in typical aging signs of wrinkles and dry, sagging skin. The integrity of...

Read more

The biggest organ you have on your body is the skin, so taking care of it is mandatory. Typically, clean, glowing skin is a strong sign of health and vitality,...

The biggest organ you have on your body is the skin, so taking care of it is mandatory. Typically, clean, glowing skin is a strong sign of health and vitality,...

Read more