Regular price
Sale price
$29.99 USD
Unit price
per
Sale
Sold out
Developed by People like you in search for beauty and skin experts, our Retinol solution is an all-in-one solution for your face.

A clinically tested solution that contains 7 incredible ingredients Retinol, Niacinamide, Fruit acid Complex, Vitamin C, Green Tea Extract, Matrixyl, and Hyaluronic Acid, making it the ideal and most beneficial product for improving your skin's glow, preventing wrinkles, reducing facial breakouts, and slowing down the aging process.

Whether you have acne, wrinkles, dull skin, or any other facial problems, our Retinol Solution doesn't cost you half your pay cheque each month or is a multistep skincare routine that's too difficult to keep up with. Our solution restores your glow and rejuvenates your skin while continuing to protect your face from the external elements.
• No side effects.
• Perfect for any age group.
• Clinically tested.
Highlights

Packed with the active-6 (retinol, niacinamide, fruit acid complex, matrixyl, vitamin C and hyaluronic acid). This time machine reduces visible signs of aging, reduces fine lines and wrinkles, rebuilds lost collagen and restores the skin's natural barrier.
Ingredients

1. Aqua: or Eau, on a product's ingredient label, means water.

2. Propanediol: is a glycol that improves the effectiveness of some ingredients by increasing their absorption. 

3. Retinyl palmitate: boosts collagen production, the proteins responsible for keeping skin firm and smooth.

4. PEG-40 hydrogenated castor oil acts as a barrier against the loss of natural moisture by creating a protective hydrating layer on the skin's surface.

5. Palmitoyl pentapeptide-4: helps the skin to heal wounds faster and increases collagen production, the production of collagen IV and hyaluronic acid synthesis in the skin. 

6. Niacinamide: helps moisturise & brighten the skin. It's also used for anti-acne purposes. 

7. Vaccinium myrtillus (bilberry) fruit extract: its calming properties strengthen skin against signs of redness. 

8. Saccharum officinarum (sugar cane) extract: due to its therapeutic properties, it heals the skin on the face more quickly and keeps it hydrated from within.

9. Citrus aurantium Dulcis (orange) fruit extract: while correcting the oil balance of the skin due to its many properties, it also reduces itching & irritation, reduces acne and prevents scarring. 

10. Citrus limon (lemon) fruit extract contains antioxidants (glutathione, ascorbic acid, and alpha-tocopherol) that help fight against skin-damaging lipid peroxidation.

11. Sodium hyaluronate alleviates dry skin, reduces the appearance of fine lines and wrinkles, & speeds up wound healing.

12. Sodium ascorbyl phosphate: neutralizes free radicals and protects skin from fine lines and premature ageing.

13. Aloe barbadensis (vera) leaf juice: It can help treat burns, acne and dry skin. It contains antioxidants, enzymes, Vitamins A and C, and it's highly anti-inflammatory. 

14. Matricaria recutita (chamomile) flower extract: it has a skin-soothing effect and makes the skin feel regenerated.

15. Camellia sinensis (green tea) leaf extract: it helps with acne & your skin look younger while helping to prevent melanoma and nonmelanoma skin cancers.

16. Olea europaea (olive) leaf extract: it reduces inflammation, repairs damage, and nourishes and hydrates skin while also slowing the effects of ageing.

17. Cellulose gum: is a plant-derived ingredient that is often used as a thickener.

18. Citrus aurantium Dulcis (orange) oil: it contains detoxifying and draining properties for the skin, helps to reactivate circulation and combats cellulite by stimulating cell regeneration and keeping your skin firm and invigorated.

19. Phenoxyethanol: is used as a preservative.

20. Ethylhexylglycerin: has beneficial anti-microbial, deodorizing and preservative effects. It is a skin-conditioning agent that helps improve the appearance of the skin.
Directions

Cleanse your face using a gentle cleanser, and pat dry with a towel. Then apply the Retinol Solution and allow for the serum to absorb into your skin for around five minutes. Make sure you don't miss your ears and neck. Apply sunscreen of broad-spectrum and makeup as normal. For best results, use twice a day.
View full details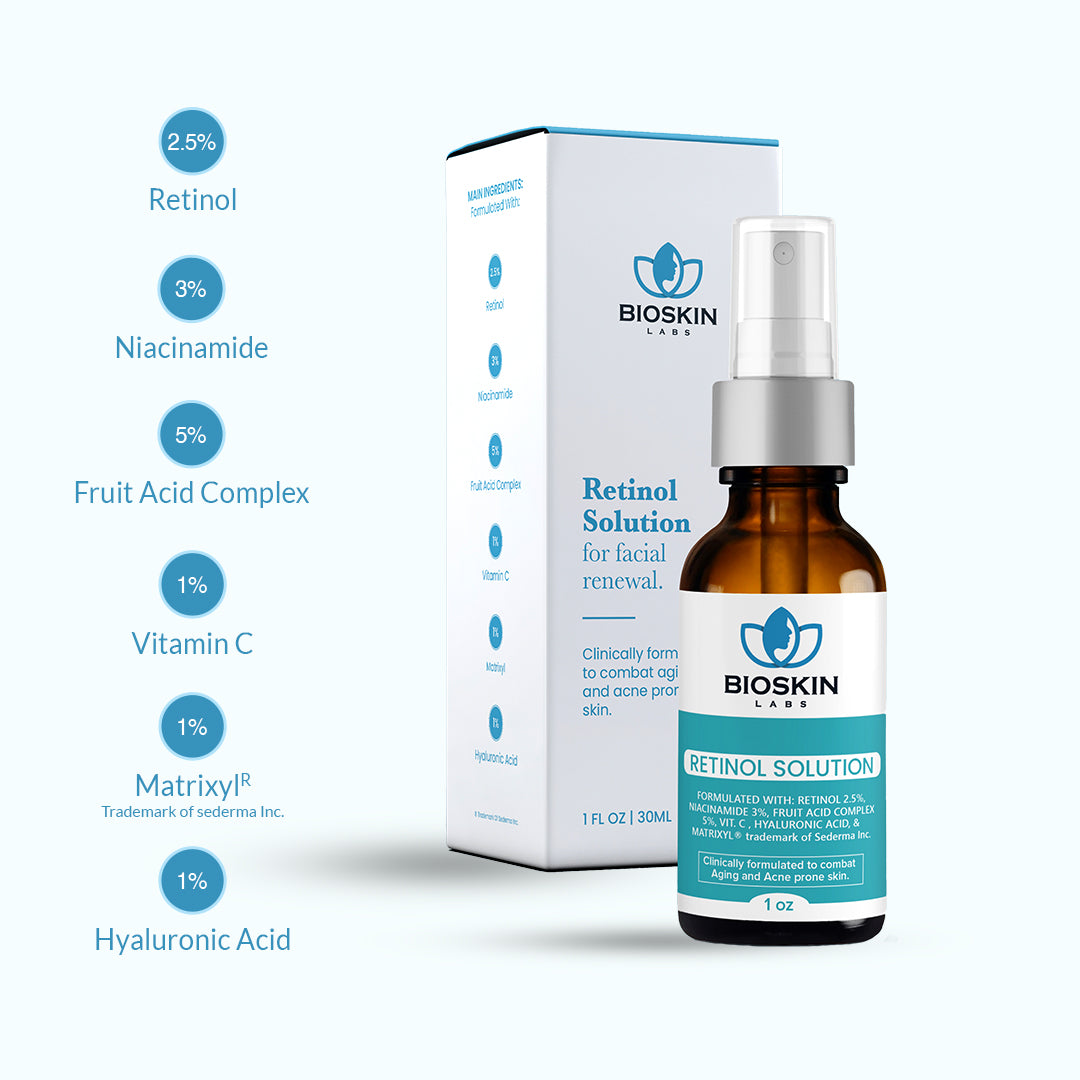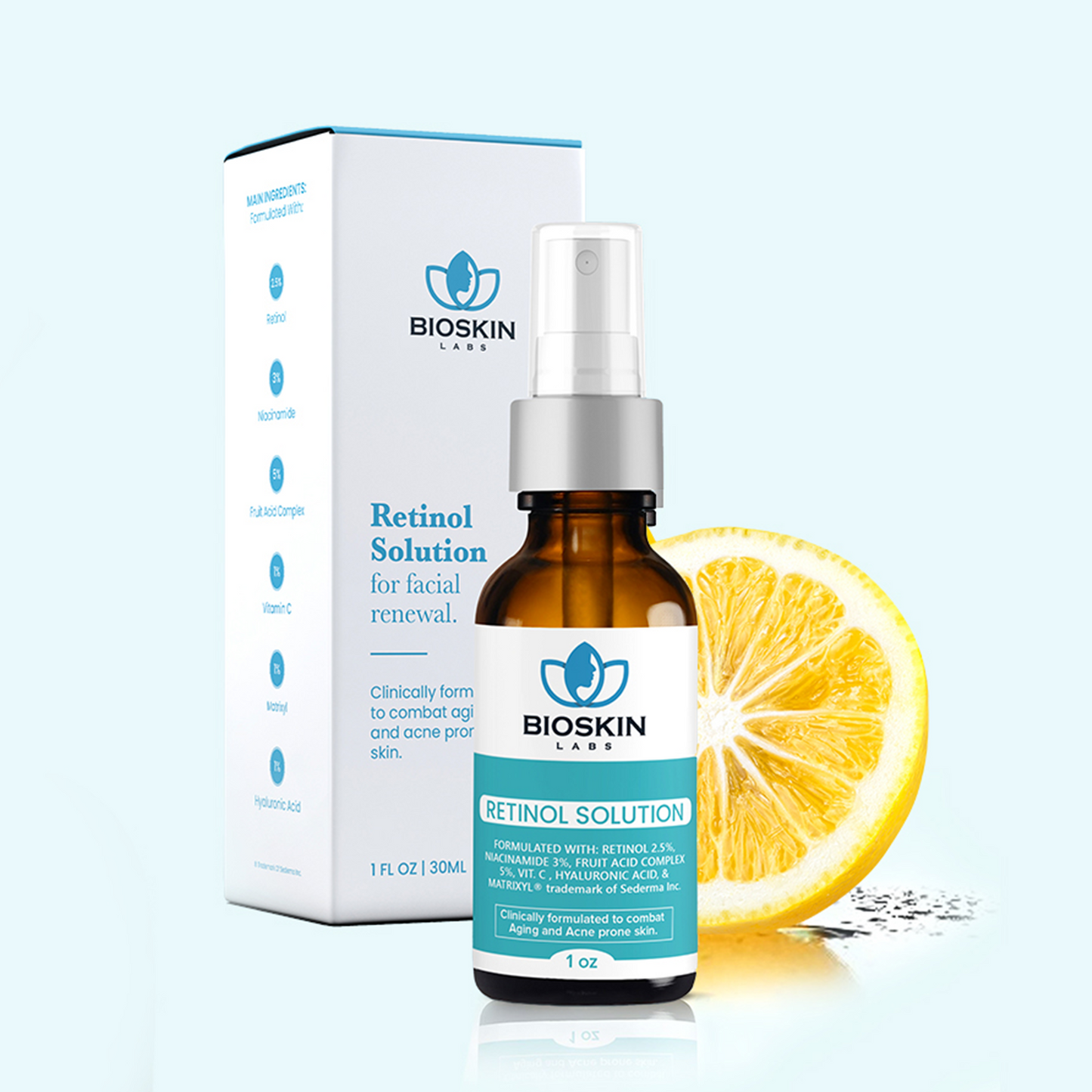 Active Ingredients
Retinol
. Prevents wrinkles.
. Increases production of collagen.
. Regulates oily skin.
. Minimizes breakouts.
. Works as an antioxidant,preventing visible signs of aging.
Fruit Acid complex
. Reduces wrinkles appearance.
. Moisturizes.
. Improves tone and texture.
Matrixyl®
. Stimulates collagen growth.
. Tightens Skin.
. Repairs damage.
Camellia sinensis (Green tea) leaf extract
Combats acne by killing bacteria, and helps prevent skin cancer.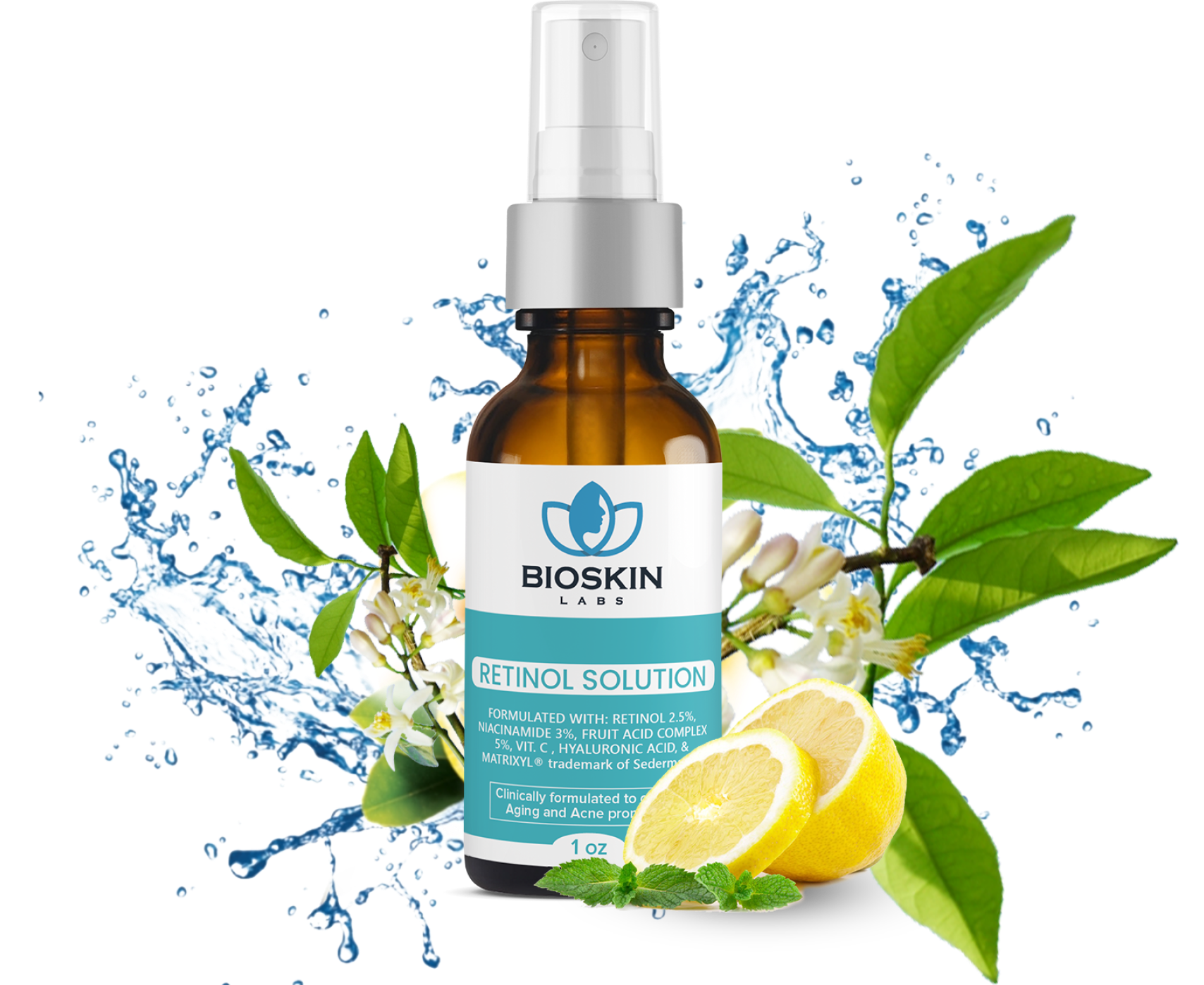 Niacinamide
. Protects against sun damage.
. Treats hyperpigmentation.
. Treats acne.
. It helps build keratin a type of protein that keeps your skin firm and healthy.
Vitamin C
. Prevents sun damage.
. Reduces acne & hyperpigmentation.
. Produces collagen.
Hyaluronic Acid
. Maintains moisture.
. Stimulates cell regeneration.
Happy Customer
The positive difference to my face was noticed by colleagues and friends soon after using the product. I have sensitive skin and it caused no irritation. Very happy 😊
Happy with this serum
I got this serum 2 weeks shiv and since l use it l noticed my skin started to look brighter and the skin tone has improved. The texture is nice and it absorbs into the skin quickly.
Sold on this Product!
I first tried Bioskin Lab's products after a close friend started using it. I've always had intermittent break outs on my skin, but after my friend started using this product, I saw some immediate results. Lo and behold .. I had a similar experience. I immediately saw some improvements around my nose which is typically the oiliest spot on my face. Thanks Bioskin Labs for putting together an excellent product!
Easy to use and great results!
Best skin care product, I can't believe that in just 5 days of using it my skin already looks so healthy and is regenerating, it's amazing how good it feels when you have the product on. I have oily skin and I can not use many types of products but this one is just perfect I love it!!!
Thank you so much we worked hard with Canadian laboratories to create a truly effective product that you deserve!
Retinol Solution is an Amazing Product
After some days using it, you will see changes and notice that the skin damage is being reduced. I tried and truly recommend this product. You will not regret it!
Thank you so much, yes by the first week one will see results!